Hot Ice Studio Customer Comments
Here are a representative sample of the emails (and a voicemail) we've received (most comments are one worders like "beautiful" or "gorgeous", so I've only tossed in a few of those):
Hello! Just wanted you to know how much I am enjoying the bowl I purchased at Wood's Cove. The colored crystals are magnificant! Keep up the great creativity and let me know if you make more!
We were at Orcas Island Pottery last weekend and were captivated by your work. I was amazed at the look of the pottery. I understand from reading your page that it is quite a process to get that look. I just wanted to drop you a note to your work is MAGICAL! You made me want to be a potter too! Have a great day!
They are very, very beautiful!
I just wanted to let you know that you have beautiful work. by far some of the best i've seen on the internet thus far. Keep up the beautiful art work.
I have never seen anything like these glazes - truly amazing!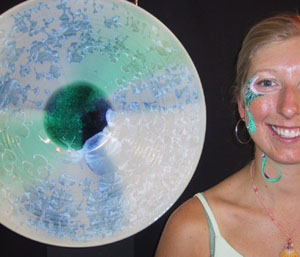 gorgeous!
I was inspired when I saw your work this week-end at the Orcas Island Pottery studio. I'm finishing my PhD in molecular pharmacology and miss being in touch with my right brain. You've inspired me to make time to do so. Thanks.
Here's a blog entry from a woman who won a cobalt bowl as part of a fund raising raffle for the Central Asia Institute, the organization that Three Cups of Tea author Greg Mortensen runs.
Well, I just wanted to tell you that I was one of those people walking by your booth on Orcas Island about a week ago heading for the bread vendor and I was completely caught by your pottery. I stopped and carefully touched one with the tip of my finger. You didn't thrust one into my hands but that could be because you weren't in the booth. I did sign up for your drawing and was very pleased when I received your email with your website. I put off getting into it because I'm inundated with emails at home and work and just didn't have the time to look at it. I must admit, I am a little leery of the "back to nature" folks found at many farmers markets as my husband and I are firmly planted in the "away from nature" group. (We are Consumers with a capital "C" and who knows what would happen to us if we were away from the malls for too long???!!!) Anyhow, I just wanted to tell you that your pottery is beautiful (okay, its gorgeous) and I was very amused reading your story on your website. Good luck to you and your business. When I have some money free up for some personal purchases, I will definitely be back to buy.
Bee U TEE FULL
Stunning!
i love your art! It is very unique!
your work is like a "lake of reflection"
beautiful gingko patterns!
Love it all!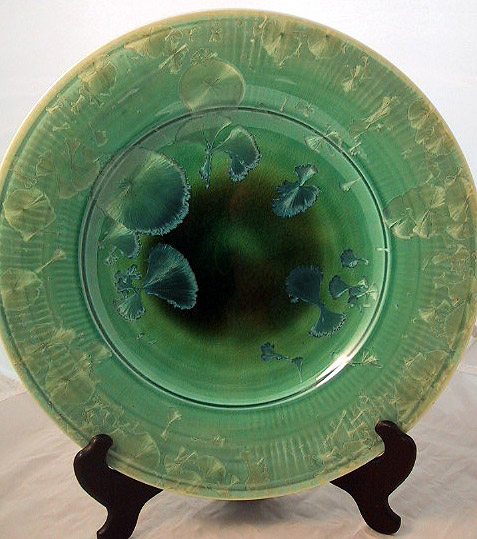 Love Your Work!
Beautiful- buying one for wedding gift
Gorgeous!
It's beautiful work! Please don't stop doing this.
Magnificent!
Hi Joe! (The pot we ordered) arrived today and is gorgeous. In fact, we'll be in touch shortly about another one. Perhaps the same color, as my wife has a plan for two that are similar in color.
Hello -
Just wanted to let you know the bowls arrived safely. THEY ARE BEAUTIFUL!
They have come to a home where they will be well loved and used. All of my dishes are from different potters and although I have some multiples - like these bowls - no 2 are exactly the same!
I had been to a disappointing "Craft Fair" and was surfing pottery sites on the web - that's how I found your site. If you have an email list - please add me.

Hi Joe-
Yes, [the sink] arrived in one piece and it is beautiful! The color matches the bathroom perfectly and the size is just right...Thank you so much- I really appreciate it!


Thank you so much Joe. I received the bowl and it is quite beautiful. Thank you for the care you took in making it and in sending it so quickly. It was received in perfect condition and I do enjoy the way the glaze dances in the light. I look forward to hearing about new items you might have available, so please keep me on your e-mail mailing list!


My birthday is in Feb...I'm going to wish for a nice big bowl...send me some photos of your favorite colors. Your work is absolutely spectacular.


(The following is an excerpt from an email I received from a customer who had placed an on-line order for a crystal pot to be sent as a gift to her aunt):
She actually called me too - raving about how absolutely gorgeous the bowl was! She's never seen anything like in Los Gatos CA - so we could be starting a trend! Thank you so much!

(The following is an email from a customer who had never purchased, or even seen, a crystal pot before; she bought one on-line as an anniversary present):
Hi Joe,
Thanks for following up! We did get the pot and it is just perfect! My husband really liked it and it is beautiful sitting in the window of our dining room. It's just the kind of unique gift that I was looking for.


Dear Joe, thank you for the beautiful and unexpected treasure: ... the beautiful porcelain, crystal glazed bowl. The box wasn't opened until today, and we didn't even look at who sent it. ... It sits where John and I can see the intricate crystals and, quite frankly, it speaks to me in a way I can't describe: very ethereal.

A phone message referencing a pot that was shipped.


Hot Ice Studio on Orcas