Garden House on Orcas Island Guest Remarks
The following unsolicited comments are a sampling of those written by guests and left in my blank guest books since the Garden House opened in 1992. They are not listed in any order of priority or date written.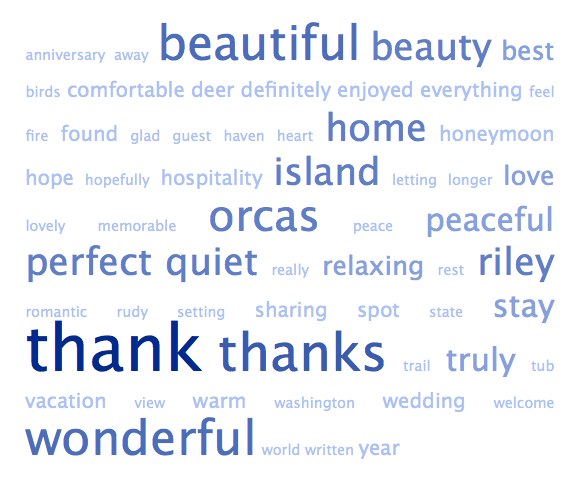 They represent only a fraction of what has been written, as most testimonials are (you might expect) pretty similar; I have selected the more creative or unusual entries. The tag cloud here summarizes the top 60 words in all the comments that follow.
The references to Riley (world's friendliest golden retriever, aka "Ace of Dogs") have been kept even though Riley is no longer with us. He brought tremendous joy to all for many years. Rudy (shown here with a guest), equally friendly and gentle tho not a golden, has replaced Riley.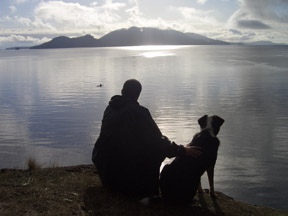 Share
(image generated at Tag Crowd)

Romance
The comments here are from guests who have chosen the Garden House for their honeymoon, anniversary, wedding or for a special couple occasion.
Roger and I stayed here for a few days last summer and when we became engaged in September '93 we knew exactly where we wanted to spend our honeymoon--the Garden House! During our time here Roger and I couldn't think of another place we would rather spend this precious time.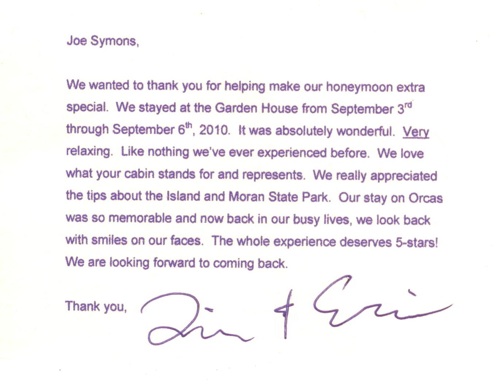 We visited Mt. Constitution and both realized that "this" part of Washington is the Washington we will take with us to Indiana, in our hearts and minds, as we finish grad and undergrad school. There are, of course, no mountains in Indiana, although if the clouds are just right and you squint your eyes and if you have a vivid imagination...Sometimes you can pretend they do exist there. We want to tell all of our favorite people about this marvelous place so that they can come enjoy the splendor. Yet, at the same time, we want to tell no-one so it will always be available when we want it. Thank you. Thank you. Heather and Roger T.
Wonderful place to celebrate our first anniversary. Blessings.
Five days snuggled in the mists and rain and deer gamboling in the thickets. Begining the new year relishing each others company. mmmmmm.....mmmmmmm.....mmmmmmmm
It's been such a romantic stay here, especially being married right here in this lovely cabin. It's exactly what we wanted in order to elope. We thank you again..it's very cozy, and we will be back next year hopefully to celebrate our one year anniversary.
Thanks for a very romantic honeymoon. We have had a fabulous stay at the Garden House and hope to come back soon. We especially liked the idea of no phone or TV. We don't have places like this in Houston!
Thank you so much for having us at your cabin. The beauty and hospitality of this island is second to none. Also, thank you for making Diana and I feel right at home. We can't wait to come back and hopefully stay longer next time. Again, thank you for helping us make our honeymoon such a memorable one. Joseph and Diana
The rain fell hard, but that didn't drown our spirit. The cabin was very comforting. The quiet was mesmerizing. It was Valentine's Day yesterday; our second one together. We had a wonderfully romantic evening, candles, dinner, the fire and an abundance of love. Thank you for the memories. Ken and Gretchen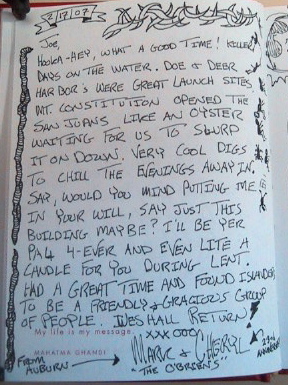 The Garden House is such a beautiful place. How quiet and romantic! You can't get any better than this! Benny and Sunna
Thank you for sharing the beauty that is the "Garden House". Weekends like this should be a must for each couple to renew the passion that brought them together and this atmosphere makes it happen! Lad and Natalie
A peaceful and cosy retreat for a couple in love. Asked Michelle to marry me whilst we took in the view from the rocky outcrop. She said YES!! never has a man been so lucky. Pete & Michelle
Thank you for providing us with a beautiful spot, surrounded by growth, love, and natural beauty, for our wedding day...Thank you..Joe, Raenya, Rudy, Shelley and Stacy (Olga's), the wildlife, flowers and trees, for teaching us about a life that is truly sacred. Grateful, Billy and Nicole
Every girl dreams of her wedding and honeymoon at least once growing up. I dreamed of it a little more often. After all the planning for a wedding in Oregon and a honeymoon in Washington while we were in Texas, I just knew that something would go wrong on our wedding day and that the Garden House would be an internet hoax. This has been the most wonderful experience. The house is adorable, the hot tube was relaxing, the flowers are so beautiful and the restaurant is probably the best food either of us has tasted. Our experience here on Orcas Island has been a dream come true and the most perfect way to spend our first week of marriage. God has definitely blessed our lives. Thank you so much. Jenny and Kevin, June 2001
Rest and Restoration
Hello Joe
We had a wonderful time. My friend didn't know just how tense she was until she started to relax. And the hot tub is a perfect location!
Rudy is so precious. Your wife was kind enough to let me give him a few treats.
I didn't have the heart to pick any flowers as I wanted the next people to enjoy what I enjoyed as well.
Most of all Garden House was the catalyst that enabled us to both exhale. Thank you for providing the space to do that.
I look forward to my next trip to the island and to checking back with your fantastic website.
My heart jumped in my throat as the ferry pulled away from Orcas. I take it as a sign of a wonderful vacation. Thank you for helping to make that possible.
Samantha (spring 2009)
Thanks for sharing such a beautiful tranquil spot. We had a wonderful time. Shelly and Elaine
The Pacific Northwest and Orcas were even more than we imagined. We hiked almost every trail in Moran Park and some of them twice. We enjoyed the "laid back" nature of Orcas. Many great places to picnic (your point, Madrona point, along hikes), many sunny days in a row, many relaxing naps outside. Incredible quantity of deer, saw many big bucks. Cathy and I enjoyed seeing the turkeys each morning as we headed out for the day. As we leave, we just hope the island will be able to maintain its current state of tranquility and natural beauty and fend off big time commercialism. In this hectic society of work and family, its important to have havens for total relaxation and natural beauty. Thanks! Dennis and Cathy, St. Louis MO.
What delights me here: it reminds me of what Hemingway (and all the great modernist writers) sought in his writing, to capture the thing itself. Not to glorify the writer, or to ostentatiously decorate, but to honor the thing itself--a rose is a rose is... And that is how it feels here; in its every detail, this shelter speaks itself, in its fine lines and thoroughness the ordinary becomes extraordinary. Pure presence. "Beauty is Truth, Truth Beauty"--Keats. Thank you, Ann R.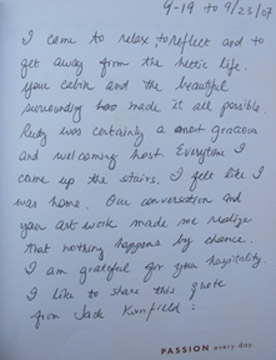 Thank you for sharing your home and its history. It truly was a welcome break from the pace of the city...So comfortable and peaceful. How fortunate you are to call Orcas home.
Garden House has been a great haven on a crazy trip. Our honeymoon with our 1 year old son...our vw bus burned to the ground on our first day out...we made it from No. California to S. Oregon...to continue on or turn around? Rent a car, get another cell phone, let's just make it to Seattle...I'm so glad we continued on. Orcas has been great for replenishing our souls. A relaxing and very zen walk around Mountain Lake and a drive up the Mountain. Some good food, new-used clothes to replace what we lost in the fire. A hot-tub under the stars. Joe and Peggy were comforting spirits for our frazzled psyches. We hope to someday be back for kayaking and whale watching--both too hard to do with a toddler this time around. Although I felt we lost everything in the fire, I've found we still have everything we neede (except our passports and any i.d. for me). Thanks Joe for your warm and welcoming heart. Peace be with you. Kristina and Bud, Kneeland, CA August 2006
We have had a wonderful time in the Garden House, in the hot tub, at Moran State Park and just exploring the island. Thanks also for letting Kip live on the deck for three days. Lisa and Nathan
We came for rest and quiet and it has been heavenly... Thanks for sharing. We have fallen in love with Riley totally and completely. We will miss his greeting each time we returned from a drive, always with a gift in his mouth, most especially the gentle way he handled the fallen fuschia blossom, so tenderly. He is a special part of the Garden House. Ellen F. and son Dan
For once I actually relaxed on vacation! Monica and I had a really nice time. We would love to buy some land up here but wouldn't want to be part of the masses that overrun the island. I hope for your sake, as a visitor, that that never happens. It would truly be a shame. We will recommend this place to a friend who will be honeymooning this fall. Once they see the picture they won't be able to resist. Thanks, Paul and Monica R., Denver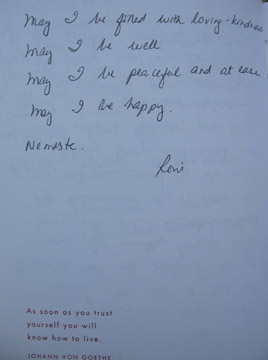 Thank you for a relaxing and memorable weekend. Great friends, great food, great place!
Absolutely lovely. We'll definitely be back. Leanne & Elizabeth
We had such beautiful weather...and we loved your place. We'd like to come back! Thanks. Kitty and Don
Everytime I come here I wonder why I wait so long to come back. It's been over 3 years, and as soon as I came upstairs, the feeling of calmness overtook me. My husband Gary and I went sightseeing in town, bought treats for Rudy at the Pet Shop (Gourmet dog treats!) Had a glass of wine at the Inn at Ship Bay (we were married there!) and on Sunday watched the Seahawks win at the bar at Rosario! My only regret is not staying longer! We'll be back this summer. Thank you Joe! Gary & Kim, Mukilteo, WA Oct 2006
Thanks for letting us into your 'garden'. We had a great home here, what with Riley the courageous ball retriever, and the busy Calliope Hummingbirds who even take a break in the garden from their hectic schedule. We had a great break, and would recommend this place of tranquillity to anyone. Niven and Ann M.
This house is a jewel--so you have the rare instance of the setting enhanced by the gem. I hope your dream of keeping the island as beautiful and pristine as it now is can be realized. We loved our time here. Don and Cathy
Thanks for another beautiful vacation on Orcas!...Few other spots in the world could be more stunning than this one. John and Melinda B.
Your hottub is splendid, your raspberries devine but most importantly, your view is provocative and peaceful. Francis E.
What a great time we had! We explored Orcas, Lopez and San Juan and agreed that this spot is the best. Best adventure: bi-plane ride. Best dinner: sandwiches from the Olga Cafe that we carried down to the Symons [Garden House] waterfront. Connie, David and Bob
In order to figure out where "home" really was, I had to leave it. If Washington is my home or body and Seattle my heart, than Orcas is my soul. Thanks again. Les B.
We love this place! We wouldn't change a thing. Hope to return again next year. Thank you! Karen and Randy K.
Your birds and trees and Riley and hot tub and sky and integrity, so gracefully shared, are much appreciated indeed! Ann H.
Thanks for letting us stay here in hyour peaceful and truly beautiful garden house. This was a needed and deserved midweek getaway for us--it will be hard to go back to the working world! The weather turned out wonderfully and allowed us to take advantage of the beach trail (Fantastic views!) and, of course, the hot tub. Mack & Teresa
Thank you for another wonderful visit to Orcas and the Garden House. We look forward to our next visit. It's so good to hear the birds. We are refreshed and ready to plunge into the city again. Laurie and Rebecca
The Garden House was perfect for us--it's as wonderful as you had described it to me on the phone. The children felt comfortable from the start and enjoyed the sandbox, raspberries and especially Riley. Thanks for everything! Sandy and Ken G.
One of the most memorable stays this has beeen. I can't think of any other place (Garden House) that has made me feel so welcome and at-home right from the get go. Garden House is that "home" away from home dream come true. I'm already looking forward to be back hopefully for even longer. Best, Taruhi, Dec 2006.
Boy did we have a wonderful stay here in your Garden House. Hot tubbing 3 (yes 3!) times per day, hiking, lots of blackberries and pleasure reading can do wonders for the spirit!. We are very glad to have seen this part of the country before heading East and will always remember fondly Orcas, this beautiful home and your warm hospitality. Jeanne and Fred
How does one describe serenity? Words certainly pale the calming brush of trees swaying in the wind, the inspiring brilliance of a sunrise, a world so silent we watched--and heard--the light feet of a deer as it disappeared into the protection of the woods. I don't suppose Sam and I can thank you profundly enough for the Garden House's gift of bringing us back to ourselves. Amanda and Sam
What a magnificent vacation this has been! While only two of the eight of us stayed here, it was perfect as a private gathering place for the whole family. And truly, only the best for the parents of the family. Thank you for creating this beautiful and relaxing vacation spot.
In addition to the tranquil setting, the hearty, big-hearted Riley who surely kept us safe on our path, finding good 'ole KPLU on the dial as we were warmly welcomed in the door and the peace/privacy our kudo's would not be complete if we overlooked the most important element. The rest. Thanks to your keen sensibility the rest was made possible due to the bed frame. Thank you! Thank you! Thank you! What another way to "support" your local public radio station.
Beautiful place! We were overwhelmed by the quality of the work and the beauty of the setting. Incredibly comfortable and relaxing. Riley's one cool dude.
We had a great time exploring the island. This is a great home base from which to venture. Thanks! ps: There's nothing like this where we came from (Boston, Sarasota)
A spring cold and a sports-injured back didn't deter us from completely reveling in the gifts of this place. Quite a dear little operation you got goin' here; I'm so happy we caught word of it (thanks to the LRC) ; we'll be back to decitify again soon!
Thank you for the peace and quiet!! This is definitely a writer's paradise. The view from the shore is phenomenal and oh sopeaceful and the walk to the shore through the wood is so beautiful. Riley is a true gentleman and wonderful companion. I might add that he is a cutie pie as well!!
Thanks for everything! This was just what we needed--beautiful, peaceful, quiet and private. Best Christmas Present ever.
Once again, the perfect weekend. Peace and quiet, a warm fire and the hot tub--it really doesn't get any better. You really have the perfect haven here Joe. Thanks for building it and letting us share the wealth. We will be back--this is too close to heaven on earth. Dave and Sue
Joe, you have done a fantastic job at creating a place where people can come to rejuvenate. As a massage therapist it is sometimes dificult to remember that the healing begins with the self. Coming here has been a blessing. Anna
Joe, We are so glad we found this place! It was perfect, peaceful, and I think we found solitude here that we needed and didn't even realize we did until we got it! Josie and Carl
It was so quiet. We were almost spooked by how quiet is was. Bill and Kim
It has always been a joy discovering the little hide-a-ways on the island. We loved our too-short stay and respected the seclusion and privacy afforded to us. Thanks for your hospitality, Joe! Steve and Christa
Joe--Thank youfor the wonderful hospitality. It was a great get-away from city life. Everything here has been so cozy, quaint--so perfect. This is our 1st trip to Orcas Island. It will definitely go down in the history books as a pleasant experience! We will definitely be back, hopefully sooner than later. Thanks! Michael and Val
Joe, Beautiful place! it sure beats camping in Moran State Park for the past 6 years. Garden House is a great getaway and warm and a fun safe place for our new addition, little Jessica. We felt right at home. Thank you for a wonderful tim. We will be back in time for Jessica to chase the deer away from the garden. Cheers, Jennifer, Jim and Jessica
We wanted time to stand still, if only for a moment, and it did. Perfect. Wonderful. Thank you. Philip and Kim
Joe--This was a truly memorable and enjoyable vacation. It sounds like you have a great passion for keeping this place a wonderfully peaceful part of the island--and we're glad you're here to do it. We would love to come again, truly relaxing! Thank you, Jan and Tom
No phones, no computers, no interruptions. Joe, this place is truly Heaven. Thank you. Elisabeth
Joe, I thank Bob for the gift and you for your creation--such attention to detail and strong intention. Quiet, simple, beautiful. Thank you. Ron
What a delightful haven! Mike and I want to thank you for sharing this beautiful treasure as we celebrate our first week of marriage. Nina and Mike
Thanks for your warm! welcoming hospitality. It's been a pleasure to stay here. Jane, Irene and Jude
Joe, what a warm, bright, comfortable space you have built in this gorgeous setting. The peaceful surroundings were a perfect complement for this 1st time ever solitary sojourn of mine. Thank You. Patricia, July, 2002
Happy 1 year anniversary to us! We couldn't have picked a better place...quiet, simple and absolutely gorgeous! Angela and Eric
We enjoyed this beautiful house among the tall pines. The garden, the birds (thrushes, humming birds, eagles and warblers), the trail to the shore were all a delight. A special treat was being able to view the stars with my new homemade telescope. Thanks so much for making us feel like welcome guests, even friends. Shanny, Cliff and Chance
Had a wonderful time in this beautiful place. The privacy, beauty and birdsongs were wonderful, but thank you especially for the comfortable bed, the lovely down comforter and pillows, and the fluffy towels! Such a nice touch. Thanks again. Bob and Linda
What a wonderful place this Garden House I have found
Where the beauty of nature does abound
As deer pass by for a nibble of grass
As you hike down the trail to the water, and the scenery, Alas,
You have found the spot, the place to be,
A place you feel you have been looking for and longing to see,
Thank you for this little haven, this cottage in the woods,
You take away the trouble of life's little shoulds,
I am a Texan a native of that state,
but next time I will make it a point to come early and stay very very late.
Susan
That moon! All else was lovingly understated and just as perfect. The serenity has settled in my bones. Thank you--Jennifer and Thomas
Our retreat has been lovely and Garden House has been exactly as advertised. We endorse all preceding testimonials. I'm as relaxed as a piece of kelp. Philip, Amanda, and Sammy, Oct 2002
We'll miss building the fires in the evening, the darkness at night, the deafening quiet, and the stars over the hot-tub. But mostly, the welcome solitude Steph and I had to plan and talk about our future, and our first baby's birth. Thank you most of all for that! Tom and Stephanie
Less and More
I have been richly rewarded by these kind words. There are many many more, some written in the guest books, some spoken during frequent conversations with guests. Gratefulness blesses us all.
Joe Symons
© 2011 centripetus


Return to Garden House on Orcas Island.