Garden House on Orcas Island, Washington
Overview
The Garden House is a private one-bedroom cottage located on Orcas Island (in the San Juan Island archipelago); Orcas Island is approximately 80 miles north north west of Seattle, Washington. The Garden House is available year round.
We encourage a meander through our web site (here's why).
But in case you are in a hurry:
In a Nutshell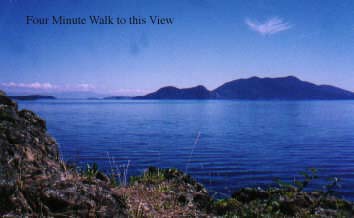 Four minute walk to this view
The Garden House is a second floor guest quarters, with cathedral ceilings, dormers and lots of light. Containing a combined kitchen and sitting room, a large bedroom, and a bathroom with shower (interior photos), the Garden House is located on 6 wooded acres of waterfront property at the east end of Orcas Island. A generous, sunny deck sits above a flower garden, with the water modestly visible through the trees. A four minute walk on a wooded trail leads to a large rock outcropping, with inter-tidal pools and a south-easterly view of the Rosario Straits, several islands and the North Cascades, providing an ideal place for fishing, conversation or contemplation. The northwest style building, with metal roof, custom wood framed windows and shingle siding, is about 200 feet from the main house. A wood stove (free firewood supplied), as well as electric heat, will keep you warm. The kitchen is fully furnished with pots, pans, plates, utensils, glasses, etc.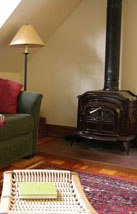 Living Room with

Vermont Castings

Woodstove

Towels, sheets and blankets are provided; the queen-size bed is made. Additional sleeping options are provided by a hide-a-bed sofa in the combined kitchen / sitting room area. The cabin has a coffee bean grinder, "mr coffee" type coffee maker, toaster, microwave, refrigerator, gas kitchen stove, small music system with cable attachment for an ipod or the headphone jack of your laptop, and outdoor charcoal grill (charcoal not supplied). For children, a portacrib is available as well as a fold-out futon and baby monitor. A password protected broadband wi-fi internet connection is available. Cell phone reception is marginal, and only with Verizon. Moran State Park, with hiking, swimming and a children's play area (more Park photos), is about 10 minutes away; the town of Olga, with a postoffice and cafe, is about 5 minutes away. Additional hiking is on Turtleback Mountain (info and map). Orcas Island is temperate year round: the summer brings sunny, though not hot, days in the low 70's to low 80's, while the winter brings generally above freezing temperatures and rain, creating a quiet coziness inviting one to snuggle up near the fire with a good book. Additional information is available at the Garden House

Journal
Make a reservation
Reservations at the Garden House can be made at airbnb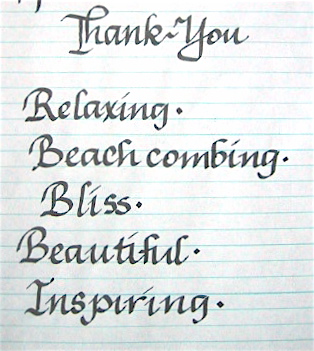 The Philosophy
The Garden House nighly rate is intentionally set below the average nightly rate for cabins on Orcas. The reason: the Garden House is not positioned as a super high-end romantic getaway, i.e., those cabins that have a dishwasher, high definition dvd and minimum 35" screen, more titles than Blockbuster, king size bed, furnished like the 4 Seasons, dyno view of the water. Still, there are few buildings on Orcas that are constructed with better materials, a sweeter design, a solidity that subtly conveys serious structural protection inside the envelope of a beautiful asethetic, or are grounded in voluntary simplicity activities, including the purchase of sufficient green power to fulfill a commitment to total carbon neutrality in energy use. Unlike the Garden House, more expensive cabins don't have exclusive beach and shore access privacy for just one guest party, don't have a garden where there is a standing offer for guests to make their own bouquet of flowers. Most other cabin environments are plural...there is not the sense that the grounds are the guests' alone. The Garden House offers exclusivity in its privacy, a sense of being welcomed into one's own personal place. The Garden House quietly reflects the terms retreat and tranquility (more on the subtext of the Garden House philosophy.) A small library of materials, from games to books, offers the opportunity to explore connection, creativity and contemplation.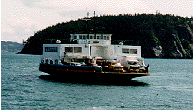 The interisland winter ferry HIYU
Orcas Island is one of four islands served by the Washington State Ferry (WSF) System--the Anacortes ferry dock is almost exactly a one and a half hour drive from anywhere in downtown Seattle. Call WSF (in Seattle, (206) 464-6400 or statewide 1-800-84-FERRY) for current ferry information.

Washington State Ferries now has a reservation system which will make your round trip to Orcas much more predictable; if you are unfamiliar with this system, you can read basic information here.
You must a) make a reservation both ways and b) arrive at least a half hour prior to your intended sailing. At least 90% of the ferry space is reserved for reservations, which means that only 10% of the ferry is available for those without a reservation who show up (really early!) prior to boarding. For those planning to come in the summer, when reservations can be harder to get the closer you are to your travel dates, WSF makes reservations available in "tiers", or pre-departure windows. You can read about how the process works here; the bottom line is that you are encouraged to make a reservation as soon as you know when you are traveling, which could be months in advance.
For real time information, you can look at the current status of the Anacortes ferry terminal parking lot.
The Garden House has an EV charging station for guest use; there is no charge.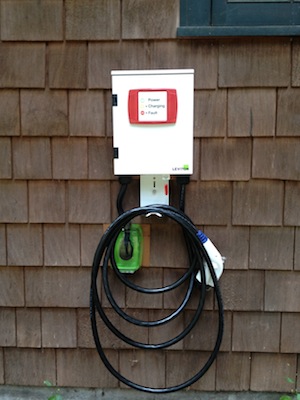 Evening Arrival Info
Whether or not you stay at the Garden House, should you plan to arrive on Orcas in the evening, you may benefit from some late arrival information regarding grocery stores and restaurants.
Cars
Enough people inquire about whether they need to bring a car that a note here seems in order. For all but the truly adventurous, you need a car. For the purposes of this comment, I define "adventurous" as anyone who is an adult not responsible for anyone else (who does not, or may not, share this definition of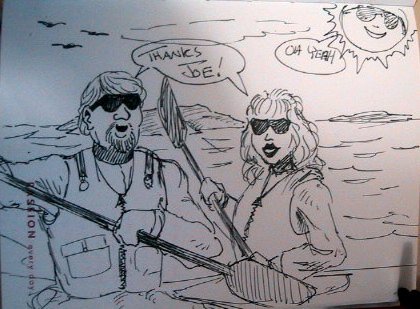 adventure) AND someone for whom hitching, walking or biking is not only possible but substantially preferable to driving AND someone who has virtually no restrictions on either their personal energy or their time. The upside is that this is a beautiful place and going slow will bring its beauty straight in, breath by breath, uncensored by steel, glass and rumble. The downside is that we're talking miles, and hills, to the nearest restaurant, store, or whale-watching boat.

The remarks offered here represent some of the many unsolicited yet very much appreciated comments which our guests have left with us over the years, offering us the rich gift of their feelings.



Looking Ahead


Winter is beautiful on Orcas; there are far fewer visitors, raising the tranquility level. There is a wood stove and plenty of firewood. Most of all, you can choose to slam the door on those time piranhas that have been eating you alive.



If we are booked...
Shearwater has a fairly good list of local accomodations if you want to explore other possibilities.
My short list of cabins (I have some bed and breakfast recommendations also--let me know if you are curious), not in any order of preference, (all meet Garden House standards for hospitality) is: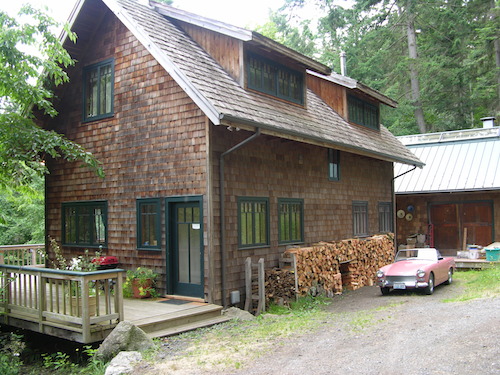 Guests cannot transfer a reservation to someone else;
There is a 4 person maximum, with some minor wiggle room depending on circumstances;
Guests are asked to leave the cabin in good condition and observe the cabin use guidelines;
Guests must have prior approval to bring a pet, and agree that pets must stay outside at all times;
Guests assume all liability for equipment used or activities engaged in while on the property;
Guests recognize that local standards of safety and habitability apply--this is the "when in rome, be like the romans" clause;
Refund policy: should a guest choose to leave early, we offer refunds only in cases where the building is clearly uninhabitable (such as a direct strike by a tactical nuclear weapon or a tree which penetrates the building envelope). Appliances which occasionally fail due to misuse or normal wear and tear do not make the building uninhabitable. We cheerfully replace burned out light bulbs, supply extra toilet paper, replace the smoke detector battery.
Please note: the information presented in this web site is designed to present an accurate description of the Garden House facility, its limitations and its features. Please inform yourself about everything (check the links) and write or ask if you have any questions or concerns.
Per San Juan County Vacation Rental Permit Requirements, the permit number for the Garden House is 00PROV063
While the Garden House is described as a one bedroom facility, the drain field is rated for 3 bedrooms, which allows some discretion in the number of guests that may be accommodated within the guidelines of the county's vacation rental permit ordinance.
Joe Symons built and manages the Garden House. The phone number for information is 360-376-4549. For questions, issues, or inquiries when you get voice mail on the main number and you want/need assurance of a faster response, text or call my mobile: 360 378 7577.



And, in our continuing effort to allow clarity the front seat in technology's invisibility car, we do not sell, loan, share, rent or otherwise pass on to anyone anything about you, such as your email address.

Want to know more about the Garden House? See the Garden House

Journal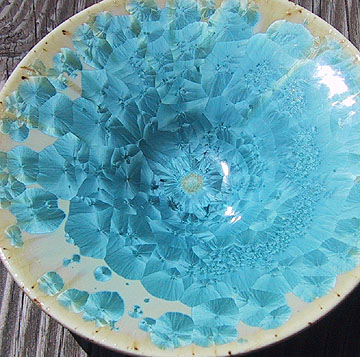 This is an example of a porcelain dish with a crystal glaze, produced in the Hot Ice Studio at the Garden House. If you are interested, stop in during your stay at the Garden House or take a virtual tour.
Thank you for thinking of us.


| | |
| --- | --- |
| | Are you on Facebook? consider Liking the Garden House to get notices of upcoming events, activities and comments on the Garden House by the staff and guests. |
For your refrigerator:
This sketch is suitable for printing and putting up on your refrig, or office bulletin board, or on your partner's pillow, as a reminder that "carpe diem" may be the most important energy you can honor for yourself and ones you love.

Speaking of refrigerator, I would encourage you to take a few minutes to read an essay about eating and health. Offered (like the Garden House) as an alternative to a mainstream perspective.


And, speaking of alternatives and food, you can have a dozen organic eggs waiting for you, coming from a farm less than 5 minutes away, if you give me 24 hours notice (current price is $6/dozen). If available, I might be able to procure (or direct you to) some other locally grown pastured organic animal protein (perhaps a chicken, or some beef, pork or lamb), or veggies in the summer, and flowers too!
Blackberries:
A commentary on going for the gold.
Geotourism and the Garden House
Are you a geotourist? If you are, you will be right at home at the Garden House. Rather than spend extra dollars on geotourism services which we won't charge you for, why not take those dollars, or the time you spent to earn them, and either financially support, or learn about, the efforts that have been, and still are, being taken to preserve and protect San Juan County by your Garden House hosts. If you support geotourism principles, please lend your weight to preserving a place deserving of your contributions. How? The journey toward an authentic geotourist activity (fear not: there's plenty more when you get here) is just one click away.

Beyond the Garden House:
Things to do on Orcas
Here is a short list of things to consider on Orcas, as seen through a biased local's eyes.
Many Hands Make Light Work
There are thousands of non-profits that are running on empty. If you don't have a favorite one (or more!), please consider adopting Children's House on Orcas, the oldest early childhood education facility in San Juan County as your benefactee. If half of the people who read this web page sent ten dollars to Childrens House, under the "random acts of kindness" mantra, the benefits to the children (6 weeks to 6 years) of working parents living in the U.S. county (yes, San Juan County) that has the greatest gap between the haves and the have-nots of all counties in the country would be enormous. Dig just a bit deeper into your wallet and buy yourself, a family member, loved one, friend, colleague a Susan Osborn Lullabies CD from Children's House. Yourself, or someone you know, who has, had, or will have children, will love this album.

Imagine the joy you will bring, the gratitude you will evoke. Thanks.

Joe's Best Picks
There are certain people who do truly outstanding work. Work that defines terms like "extraordinary", or "fantastic" or "unbelievable". The people listed here are both my friends and my mentors. Judge for yourself.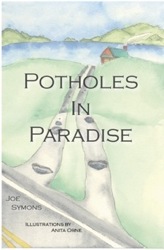 Living on Orcas Island offers many opportunities for self-discovery, most of which cannot be avoided or denied without consequence. Many who visit Orcas see it as a refuge, an escape, a retreat, a magical playground. Indeed it is, tho often less so for many who call it their home. One of the reasons for this is the difficulty in finding meaningful, as well as economically viable, work. I've written a book about Orcas which discusses this and many other realities of island living for those who would like an insider's perspective on this lovely, and complex, island. Entitled Potholes in Paradise, the 210 page book, published in 2009, deconstructs the image of Paradise into its component parts with the intent of showing what community life is really like living on a pristine rural island in one of the most beautiful locations in the country. Electronic copies are available; a pdf file ($8.95) directly from me (just email) or as an iBook .
The future of San Juan County: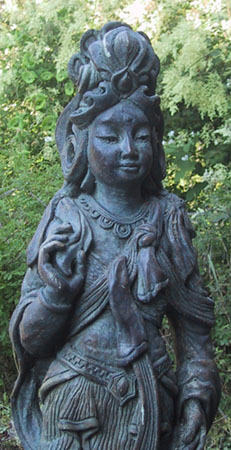 I have served as the chairman of the San Juan County Comprehensive Plan citizen advisory committee for Orcas Island. The county, by participating in Washington State's Growth Management Act, is slowly and gracelessly engaged in rewriting its future. I've been finding myself animated about the future of the island, the future of the county, and, in general, the future of beautiful places throughout the world as I watched my committee, and the community, struggle with the first of the Kubla-Ross "stages of change" (denial) in recognizing, much less resolving, largely unarticulated, tho deeply felt, personal/community boundary issues. I've written several essays which discuss the growth issues facing San Juan County, and by extension almost anywhere, and suggest possible routes to their solution. Should you find any of this material interesting or useful, both for contemplation or for application to your situation, where ever you live, I'd appreciate your feedback. You might also want to learn about the options for land conservation provided by The San Juan Preservation Trust. If you really want to learn about the future of San Juan County, read the appeals of the San Juan County Comprehensive Plan. The details of the appeal process, the appellants, the County's response, and the conclusion of the Western Washington Growth Management Hearings Board, are all posted here. The bottom line is simple. If you read the guest comments, you'll see that visitors love it here. You wouldn't be reading this if you weren't at least attracted to this place and wonder about its future, since you might come here, or have been here and would like to imagine that when you return, it will be then more or less what it is now. To those of us who see San Juan County as a national treasure to be preserved and shared, the rubber meets the road right on top of the Comprehensive Plan. You can help. Take a few minutes. Read this material. Imagine that your unexpected letter might tip the county council into doing the right thing. Score another point for a random act of unexpected kindness.

The letter here frames the essential growth issue before the county, which, briefly, is the personal, internal conflict created by both wanting the quality of life that exists today to last in perpetuity while at the same time fearing the loss of autonomy (and income) implied by governmental regulation required to achieve this same quality of life objective. It's the "having your cake and eating it too" syndrome.

The essay here suggests a solution while reminding us that there's no free lunch.

The essay here describes why regulation is a response to both growth and the characteristic that many of us have to not do the right thing; the piece starts by reflecting on the white striping lines in ferry lane parking lots.

The essay here discusses the idea of buying our future, of being proactive rather than inactive or reactive.

The essay here points out that all the effort being devoted to keep things as they are will, if successul, result in nothing visible, nothing tangible, nothing new. As a result, who can get excited about working hard to achieve what we already have?
Our Partnerships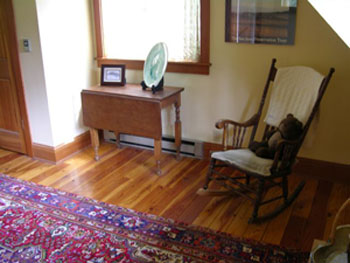 We support a number of organizations that do important work we don't have time to do ourselves. Part of that work helps us wake up, part of that work brings joy--each of these qualities has no maximum limit, each can be increased to the benefit of self and others. You are invited to explore these to determine if the work they do might be worthy of your investment in time, funds, or recommendation.
The San Juan Preservation Trust, a non-profit land trust, helps preserve San Juan County by assisting landowners in dedicating conservation easements on their property.



KNKX, NPR and Jazz for western Washington, 88.5 on the fm dial, serves up large doses of musical joy.



We are pleased to participate in EPA's Green Power Partnership.


Finding others to do the work you believe in takes time. You can leverage your time by exploring the Charity Navigator web site. They help charitable givers (hopefully you) make wise decisions by providing comprehensive, objective ratings and analysis of the financial health of many charities. The goal, like microfinance, (see, for example, Finca), is the fish teacher model (give a man a fish and he is hungry tomorrow; teach a man to fish and he is never hungry again.)


You can also make investments in microfinancing institutions such as kiva.org. These investments bring you a return of way more than money. You help level the world's economic playing field, reminding me of the phrase "woman who chops her own wood warms herself twice."
Got an old cell phone which needs a new life? You can donate it to a charitable organization to recycle and re-use your cell, you have many choices.

Lend your computer's shoulder to the wheel to solve some immediate problems without compromising security or efficiency.

Join the Centripetus Family (and thousands of others) in donating unused computer processing time toward creating better (more nutritious, more disease and/or drought tolerant) rice, fighting aids, conquering cancer, figuring out solutions to Alzheimers and Parkinsons. Curious? Learn about and join either the World Community Grid or Stanford University's Folding at Home project.

We encourage democracy in action. Voting once a year or less is just not enough. You deserve more, and so does the country. One place to start is to contact your local congressperson and senators. Do you know who these people are? Find your senators here.

Kind Remarks
The web site has been created with an intention to inform you about the Garden House while avoiding the fluff generally associated with promotion. Here's a comment that suggests the goal has been met:
"I absolutely love your web-site. It has to be the most amusing and original one I've seen while hunting for a place to stay on Orcas."

If you'd like to suggest modifications, improvements, additions, or comments on the site, know they will be appreciated.
The small print:
This web site is designed, updated and managed by Joe Symons
© 2016 centripetus

Island Stewards is a 501(c)(3) non-profit dedicated to supporting tiny Orcas Island non-profits that do not have 501(c)(3) status. You can help fund this effort (with no cost to you) by purchasing goods at Smile.Amazon.com (instead of amazon.com). When you sign up choose "Island Stewards" (Olga) as your charity. Click here to start or click on the 'get started' button in the banner below.

Thank you!!!