Orchard Falls
In a Nutshell
Orchard Falls is a sweet, small cabin situated within 14 acres of lawn, forest and orchard located on Orcas Island in Washington State .





Currently, Orchard Falls has a substantial booking and is NOT available.





Information on rates, availability, and how to contact us, along with many other topics (guest comments, philosophy, description of the cottage, etc.) follows.
| | |
| --- | --- |
| | The setting is a large clearing, surrounded by native fir and alder forest, and an old apple orchard (maintained without sprays, fertilizers, chemicals or pesticides of any kind). A telephone and modest amenities for simple yet comfortable living are in place. It is a lovely private space. |
| Cozy and functional are the key words to describe the cabin, containing a sleeping loft, fully-furnished kitchen, bathroom with shower, and living room with wood stove. | |
| | A writing desk is next to the back door, which exits out onto a small deck and a picnic area. |
| The kitchen, with propane stove and oven, is fully equipped with pots, pans, utensils and other essentials--guests need only supply groceries. | |
| | Towels, sheets and blankets are provided; the double bed is made. Here is the view from the sleeping loft. |
A wood stove (free firewood supplied), as well as propane heater, will keep you warm. The cabin has a small tape/cd/fm player and outdoor charcoal grill.
The maximum number of people that may stay at Orchard Falls is 4.
| | |
| --- | --- |
| The large sloping lawn in front of the cabin provides a perfect place for children of any age to roll, play catch, have a picnic, enjoy the sounds of the birds, or watch the deer. At the south end of the orchard, a sitting bench overlooks a lovely grotto. | |
| | |
| --- | --- |
| | The property abuts the eastern boundary of Moran State Park, allowing hikers access to the most remote and quiet parts of the park via the park's boundary line trail. A modest 3 minute climb will reward the hiker with distant water views of Cypress Island and the Rosario Straits. |
The property is beautiful, private, secluded, quiet. You will hear the occasional call of a rooster and the sound of sheep from a neighbor's farm, and hopefully little more. Guests who are interested in a retreat to shake off the intensities of their regular lives will find Orchard Falls a perfect sanctuary. I know of no other vacation cabin on Orcas that has the privacy and space that is available at Orchard Falls.



The Area:
The main entrance to Moran State Park, with hiking, swimming and a children's play area, is about 10 minutes away by car; the village of Olga, with a postoffice and general store (open in summer only), is about 5 minutes away. The trailhead to a county/DNR marine park is about 5 minutes away--this park has a half-mile trail to a pebble, south and west facing beach. Orchard Falls is about 5 miles from Cafe Olga, home of the best cinnamon rolls (and blackberry pie) this side of heaven.
Orcas Island is temperate year round: the summer brings sunny, though not hot, basically bug-free days in the low 70's to low 80's.
The Details
Currently, Orchard Falls has a substantial booking and is not available.
The Philosophy
The Orchard Falls nighly rate is intentionally set way below the average nightly rate for cabins on Orcas. The reason: Orchard Falls is not positioned as a high end romantic getaway, i.e., those cabins that have a microwave, dishwasher, vcr, 35" screen, more videos than Blockbuster, hot tub, king size bed, furnished like the 4 Seasons, dyno view of the water, yadda. Orchard Falls is for folks who have a budget, who may have kids, who want quiet, tranquility, simplicity. From anywhere on the property, you won't--you can't--see another house. No other cabin on Orcas that I know of offers this--confirm it when you call around to other cabins as part of your reservation decision. Orchard Falls wasn't built yesterday with cvg fir trim, oak floors, Jen-Air grills in the kitchen. It has patina without being grunge, it is rustic without being rusty. Those who have come here have told me they wouldn't trade it for the glitter you can get (and pay for) elsewhere on Orcas. There's neither pretension nor presumption. This place defines authenticity; Eddie Bauer and L.L. Bean try to evoke images that Orchard Falls has earned, and owns.


The interisland ferry HIYU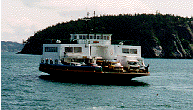 Orcas Island is one of four islands served by the Washington State Ferry (WSF) System--the Anacortes ferry dock is almost exactly a one and a half hour drive from anywhere in downtown Seattle. Call WSF (in Seattle, (206) 464-6400 or statewide 1-800-84-FERRY) for the current schedule and (this is important) their recommended arrival time at the dock prior to boarding the ferry you want. (Note: the WSF web site has some recommended vehicle pre-boarding dock arrival time estimates posted in case you can't get through by phone.) From late May through early October, do not be surprised if this time seems to be unconscionably early.
In scheduling your Anacortes ferry dock arrival time, figure a two hour drive from Seattle, to allow for accidents, heavy traffic, etc. and throw in at least an hour OR TWO (except for the very early and very late boats) to insure that you get the ferry you want (particularly Friday afternoons and anytime in the summer), and another hour an a half on the ferry to the Orcas dock and you'll see you need to allow a big chunk of a day to get here.
Cars
Enough people inquire about whether they need to bring a car that a note here seems in order. For all but the truly adventurous, you need a car. For the purposes of this comment, I define "adventurous" as anyone who is an adult not responsible for anyone else (who does not, or may not, share this definition of adventure) AND someone for whom hitching, walking or biking is not only possible but substantially preferable to driving AND someone who has virtually no restrictions on either their personal energy or their time. The upside is that this is a beautiful place and going slow will bring its beauty straight in, breath by breath, uncensored by steel, glass and rumble. The downside is that we're talking miles, and hills, to the nearest restaurant, store, or whale-watching boat.
Guest Comments
The remarks offered here represent some of the many unsolicited yet very much appreciated comments which our guests have left with us over the years.

Currently
Orchard Falls has a long term booking and has zero availability .
Cancellations / Other Options
Hope is not lost. Try our Garden House cottage.
Occasionally there are last minute cancellations. I post availability here immediately if an opening occurs.
Shearwater has a fairly good list of local accomodations if you want to explore other possibilities.
Restrictions / The fine print...
Guests cannot transfer a reservation to someone else;
Guests are asked to leave the cabin in good condition and observe cabin use guidelines posted on the fridge;
Guests assume all liability for equipment used or activities engaged in while on the property;
Guests must have prior approval to bring a pet, and agree that pets must stay outside at all times;
Guests recognize that local standards of safety and habitability apply--this is the "when in rome, be like the romans" clause;
Refund policy: should a guest choose to leave early, we offer refunds only in cases where the building is clearly uninhabitable (such as a direct strike by a tactical nuclear weapon or a tree which penetrates the building envelope). Appliances which occasionally fail due to misuse or normal wear and tear do not make the building uninhabitable. We cheerfully replace burned out light bulbs, supply extra toilet paper, replace the smoke detector battery.
Please note: the information presented in this web site is designed to present an accurate description of the Orchard Falls facility, its limitations and its features. Please inform yourself about everything (check the links) and write or ask if you have any questions or concerns.
If this page seems a lot like the Garden House, it's because it was designed by the same person. Joe manages Orchard Falls; reservations are made through Joe at the Garden House. Just ask for Orchard Falls when making a reservation. The phone number for information and reservations is 360-376-4549. You can email Orchard Falls directly at "orchardfalls AT doebay.net" (the email address shown here has been modified to be invisible to spam crawlers). Remember to have, or send, all the information mentioned under "The Reservation Process" section above.

NOTE: every now and then our ISP's spam filter unaccountably traps an email from you. If you don't hear from us within a day, please call! We review the filtered emails often, but not always daily. We certainly don't want to give you the impression we are indifferent to your inquiry!

Thank you for thinking of us.



In case you might wonder, our privacy policy is simple: we do not sell, loan, share, rent or otherwise pass on to anyone anything about you, such as your email address.

A glimpse of the Orchard

Toward a Bigger Picture
We are committed to supporting conservation of the biologic, scenic and rural qualities of the San Juan Islands. We are proud to be business members of The San Juan Preservation Trust, a non-profit land trust helping preserve San Juan County by assisting landowners in dedicating conservation easements on their property.
San Juan County, and Orcas Island in particular, are spectacularly beautiful. The community and way of life here are endangered species. We welcome guests to share in this community while they, and we, still can. The future of San Juan County is directly linked to its comprehensive plan, which has been appealed by a tiny handful of people on the grounds that the plan invites and allows a development potential hugely incompatible with current conditions and community preferences. Details on the appeal are available here. It is an important story receiving little attention. Your's is truly wanted.






All material on or referenced by this page is © 2007 Joe Symons
3.31.2001.[an error occurred while processing this directive]